mike
Presumptive Product Design
Paper & Rapid Prototyping
CAD Development


In Collaboration with Mai Doan Phuong
OVERVIEW

This project tasked us with the conceptualization of a potential product using cross-pollination methods. This product is prototyped and created using presumptive design techniques, working backwards from traditional user-centered design processes.


BACKGROUND

mike is an multi-purpose pen tool that aims to simplify the ability to record information. By recording sound, scanning text and transcribing it all on digital devices, Mike's goal is to minimize the use of many different tools by having it all in one place.


PRESUMPTIVE DESIGN PROCESS
Our concept was created through cross-pollinating different ideas. In testing and re-iterating our concept prototype, we progressed into stages of understanding uses and developing features as the prototype and it's features evolved.

CROSS-POLLINATING IDEATION

Our first idea was being able to dry something quickly and effectively. This helped drive the idea of scanning, as items like irons and hair dryers allow users to perform a "scanning" action over what they want to press or dry.

The bulk of the concept comes from our second idea, which was a recording pen. The pen concept was taken to another level by the first idea, giving us the direction of this device also being able to record content by scanning. By combining bits and pieces of our two directions, we were able to come up with general features for the recording pen to have, as well as begin moving towards making paper prototypes.
PAPER PROTOTYPING


Taking what we've learned from early concept stages, we created two different samples of a paper prototype to gain a better understanding of what our product may turn out to be. It allowed us to get an idea of the pen's shape and form, as well as certain features of the microphone cap such as a clip and the microphone's placement. These paper prototypes were very helpful in demonstrating our product ideas for feedback.

EVOLVING THE PROTOTYPE

Before taking our ideas into modeling software, we wanted to sketch out some of the product's highlights so far. By doing so, we were able to further evolve some of the feature ideas that were curated in earlier stages. This led to final design decisions towards the microphone cap clip, the scanning cursor and user feedback on the microphone using a subtle light. We also explored other possible shapes and forms that may play a role in designing the device.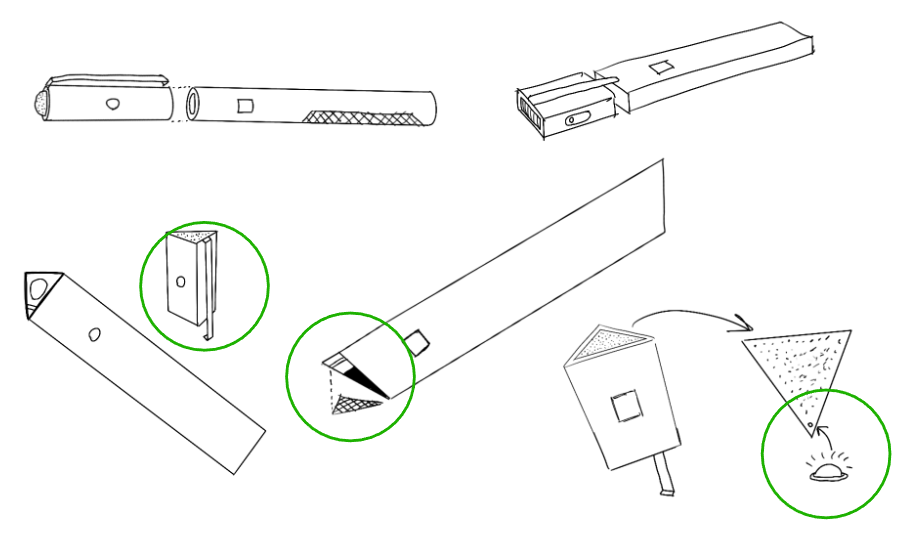 MODEL DEVELOPMENT

Moving our ideas into Shapr3D, we began building our prototype. Touching up certain ideas and features as we moved along, our ideas slowly came to fruition based on feedback received from our paper prototyping. Following the current direction and taking it into 3D software helped us gain an even better understanding in what this product will look like.

This was my first time using a tablet-based CAD software such as Shapr3D, and it was an enjoyable experience getting to learn the tool as we polished up our product ideas. To add, CAD software allowed us to input specific dimensions and details that helped take our design to the next level.



DIGITAL IMPLEMENTATION

A core aspect of our product idea is pairing it with other digital products at the users disposal, such as a phone or tablet. Mike would be able to connect to devices and perform key features such as recording and storing content on any device of the user's choosing.

We worked through two main user flows that was built off of our main features, which are:

︎︎︎Start and end a recording, access files, playback and export

︎︎︎Scan text onto a device, access files, edit and export

TAKEAWAYS

Our approach to this project was different yet exciting, as we operated using a presumptive design process. By cross-pollinating simple ideas and concepts, we were able to come up with a unique product concept before iterating and seeing what works and what does not. As opposed to a user-centered design process, where we build a background of insight and understanding prior to design, we created an artifact which evolved through iteration, understanding and many potholes on the road. Overall, this fast-paced journey was very memorable as it underwent many highs and lows by spearheading the direction through concept.