Gentle Paws

Mobile App Ideation
Task Analysis
App Navigation
OVERVIEW

We were tasked with bringing the idea of pet health management to life, through this conceptual mobile app. Taking a set of user data, we developed a direction for this app through user task flows and building a foundation for the app's navigation flow.
BACKGROUND

Gentle Paws aims to fulfil the needs of pet owners by simplifying tasks, logging pet health related data and helping users with many pets to manage them all. Strong brand recognition and extensive usability were key factors in our design direction, in making the app a reliable tool for pet owners.

TARGET PROFILE: SINGLE PET OWNER
Demographics:
︎︎︎ Ages 26 - 37
︎︎︎ Pet is their only dependent
︎︎︎ Living in urban/suburban areas
︎︎︎ Pet is their only dependent

Psychographics:
︎︎︎ Extremely pet-focused
︎︎︎ Hires a pet minder while working
︎︎︎ Actively care and do research for their pet(s)


Technographics:
︎︎︎ Comfortable with home devices
︎︎︎ Willing to learn a product if valuable to them


Brand Relationship:
︎︎︎ Newer product space
︎︎︎ Favours high end pet stores/products
︎︎︎ Intolerant of poor brand experiences


USER TASK ANALYSIS
Before diving into wireframing, we compiled different tasks and features for our users to perform on the app. Breaking up the different task flows allowed us to understand the overall flow of the app. Taking these task flows and creating fleshed out task diagrams helped round out the features that Gentle Paws would include, as well as guiding us towards building a consistent navigation for the app.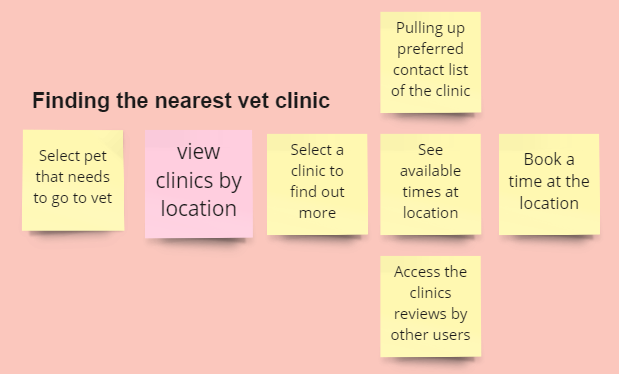 PRELIMINARY SKETCHES

This stage involved evolving the user tasks into features, following a simple flow and navigation to match. Taking what we learned about the user flow, we wanted Gentle Paws to follow consistent patterns across the different features available to users.

As always, many changes are being made in the sketching process, while it is easy to do so. We were able to toy with our ideas before taking what was most effective into a low fidelity wireframe.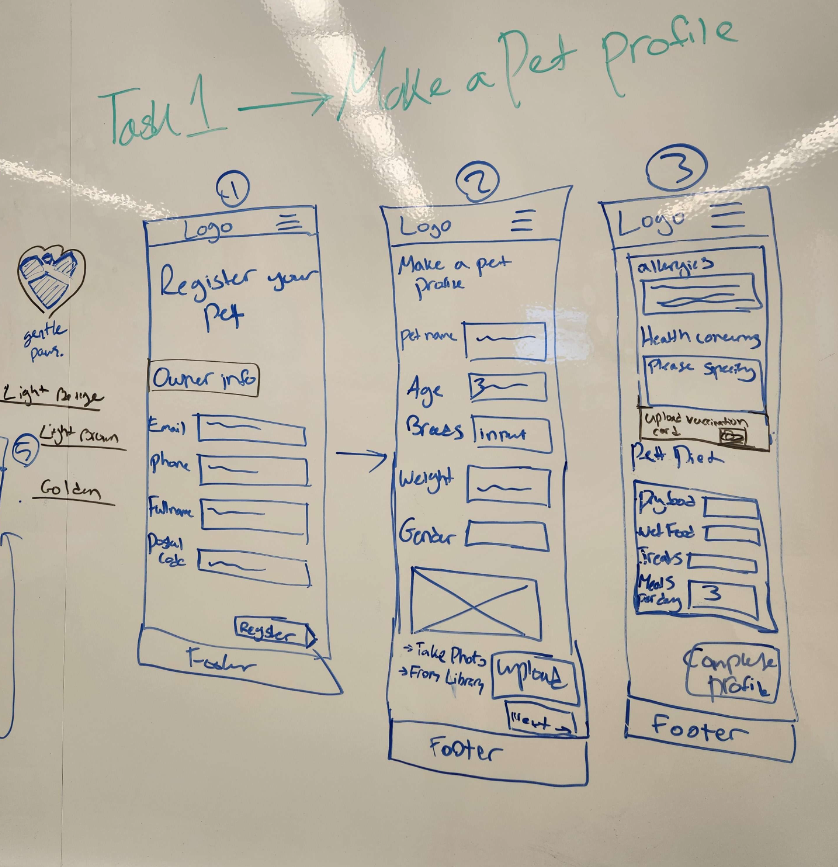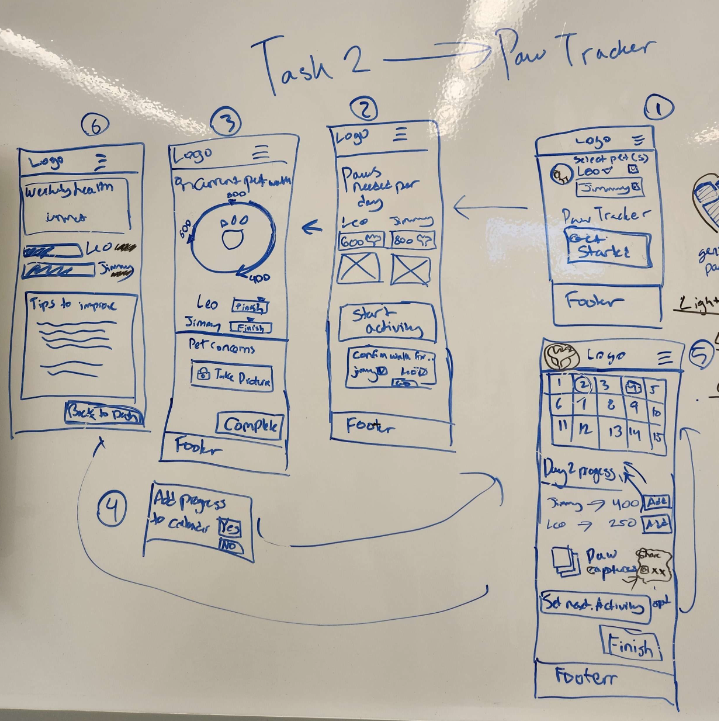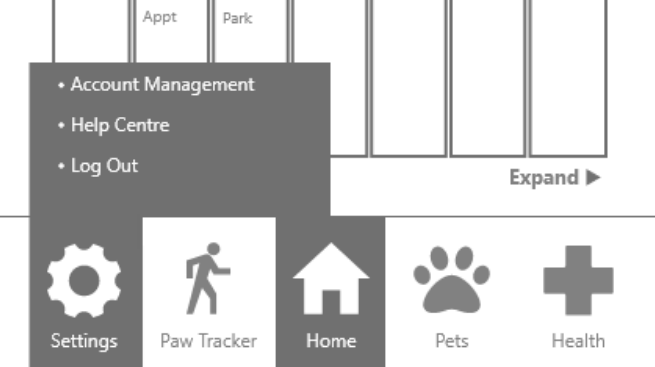 LOW FIDELITY WIREFRAMING

The next stage of bringing Gentle Paws to fruition, where we learned from multiple sketch variations in how we want to present features and navigation to the user base. A bottom bar navigation received healthy responses in a short usability testing round, as it allowed for access to all features in one press of a button. It was also important for us to give users the ability to access account needs at any time, through the "Settings" tab that is available on all screens once logged in.
HIGH FIDELITY WIREFRAMING

Link to High Fidelity Prototype
Wrapping up our working prototype, we wanted our app to feel comfortable to use. By sticking to a simple palette and design, the app looks and feels straightforward to use. Keeping the app simple also allows for the features to shine, since there are quite a few, and we do not want our app to feel overwhelming to users.
TAKEAWAYS

This project in particular had me thinking quite a bit about just how will our users be using the app. Studying task flows and identifying the priorities of our users played a big role in the overall direction of the app's design. This applies to both how content looks and the way it is presented to the user. By following patterns in the task flows, we were able to create an app that presents our users a sense of direction without limiting their control in the product space. As changes were made along the entire process to the app's overall design, we were able to adjust accordingly to fit what works best for an app that users will consistently be returning to.